Chicken Broth is one of the tastiest, filling meals or stock base you can make yourself. There's no need to buy those too salty off the shelf, tin, cube or boxed broths when you can probably make one today with what you have in the fridge. How? Let me show you…
Unless you are a vegetarian or vegan this article is probably not for you but for the rest of us who like chicken, chicken soup and broths here's my tip to stretch that chicken dinner a little further.
What You Need?
One whole cooked chicken
Two Stalks of Celery (chopped)
Two Large Carrots (chopped)
Half a large onion or one medium onion (roughly chopped)
Pepper, Salt, Herbs (for taste)
Preparation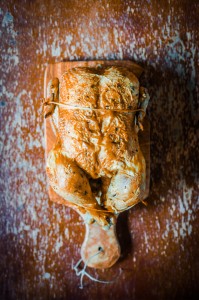 Take your leftover chicken carcass, which may include some of the meat, all the bones and some or all of the skin and place in a large saucepan.
Add the chopped celery, onions and carrots to the pot. Season with salt, pepper and your choice of herbs. You can add other vegetables for flavor but these are the ones I would recommend.
Remember, keep it simple at this stage as the vegetables you add now will be discarded along with the chicken bones, carcass and skin and any meat, as once cooked you will only be interested in the leftover broth.
Cover with cold water and bring to the boil.
Simmer on low for 1 hour. Stir occasionally. You can pretty much leave it to it's own devices once the simmering has settled down nicely and you know it's not going to boil but keep an eye on it.
Remove from heat and stir well.
Pour the liquid through a strainer into a separate container. Leave to cool.
Discard what is leftover.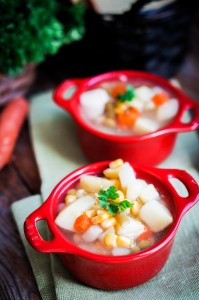 If you do not wish to use straight away, place in fridge.
You now have Chicken Broth. You can drink this as it is or take it one step further and make Chicken Soup using the liquid you just made as the base. Don't forget the meat you pulled off as you can then add that back into the soup. You can also use the broth to flavor rice. Do you have any other tips for using homemade broth?
Why not check out my easy
Chicken and Vegetable Soup
using the Slow Cooker.