Today I decided to whip up a quick and easy slow cooker meal using some sausages that were in the fridge and a whole heap of veggies.
What Do You Need:-
One pack of your favorite sausages. I decided to use Johnsonville Brats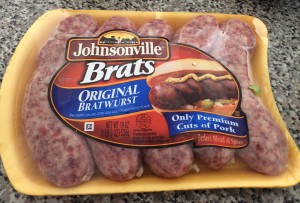 Take the Brats and brown them in the pan. If you use the same sausages you don't need to add any extra oil, they will take care of that for you. Be careful they make smoke and it's best to reduce the heat once they get going. Set aside and leave to cool so you can chop them up later.
Top Tip: save that oil in the pan after they have browned. You can use it to sauté the onions and mushrooms and get even more sausage flavor into the meal.
While the sausages are cooking you can prepare the vegetables whilst keeping a close on the sausages so that they don't burn up too much.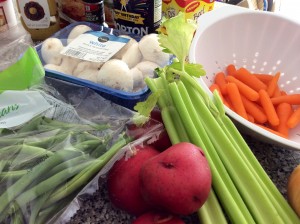 The Veggies
Wash and chop the following:-
4 stalks of fresh celery
4 small red potatoes
6 medium white mushrooms
1 medium white onion
Large handful of baby carrots
Large handful of green beans
½ a large apple