We had a leftover whole cooked BBQ chicken which still had half the breast meat, one leg and one wing left to eat. We could have had it cold with some potato salad or popped it in a sandwich but I decided to make an easy slow cooker meal combining all the leftover chicken and some vegetables.
What Do You Need:-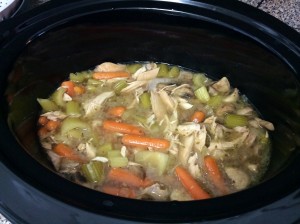 Chicken – (any leftover cooked chicken) Remove all the chicken from the bone and discard any skin and bones. Set aside whilst you prepare the veggies.
The Veggies
Wash and chop the following:-
4 large stalks of fresh celery
1 large white onion
5 large white mushrooms
A large handful of baby carrots (leave whole)

Add the onions to a pan and lightly cook in a small amount of olive oil until soft. Add the mushrooms, stir and cover for a few minutes on a medium heat.
Stock
2 Maggi vegetable stock cubes (or preferred stock)
4 cups of hot water
1 tsp of spicy mustard
a good seasoning of Black Cracked Pepper
a good sprinkle of Badia Complete Seasoning
a good shake of Badia Oregano
Top Tip: Homemade stock is the best – why not check out my Easy Chicken Broth article. You can easily add vegetables to make a vegetable stock too
Meanwhile put the Maggi vegetable stock cubes into a measuring cup and add a small amount of water. Stir until completely dissolved. Top up the cup with more boiling water and pour over the onions and mushrooms. Add 3 more cups of hot water to the pan or why not use your own homemade chicken stock. Season with the mustard, black cracked pepper, complete seasoning and oregano for taste. Stir well and cover. Remove from the heat after a few minutes but keep the lid closed. Set aside.
Add the celery, carrots and chicken to the slow cooker. I added a bit more black cracked pepper at this point.
Take the stock and slowly pour the mixture over the vegetables and chicken. Do not stir.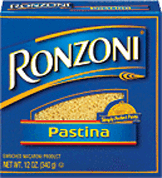 Cook on low for 6 hours
To Serve
We had some pasta by Ronzoni called Pastina. If you look closely they are little stars and they are great in light soups as an alternative to potato. They only take 5 mins to cook so boil them in a separate pan and add a spoon on top of your finished soup.
Top tip: use a fine sieve to drain the Pastina as they are tiny and will easily escape a large holed sieve.