Miss Jane Marple comes to iOS so you can keep track of your favorite knitting detective on your iOS device. Easily track all your favorite Books, Movies and TV shows.
---
Miss Marple, the nosy but friendly busy-body, now on iOS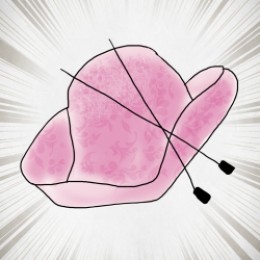 If you love all things Agatha Christie, but especially everyone's favorite spinster amateur detective Miss Jane Marple, then you are in for a treat with our new app – Miss Marple for iOS.
The thing about Miss Marple, is that you can't really ignore her, even though you may not see her at first. She moves around like some frail old lady often muttering something of great importance under her breath and the only sound you may hear is the faint clicking away of needles in the distance, expertly putting a new knitting project together.
Come to think of it, has anyone ever seen any of her finished results? A jumper for her nephew perhaps or a scarf for one of her many ladies that lunch or take tea and cake in her wonderful garden. I'm not sure I have, but then it's all part of the devious mask behind the clever brain that's working on so many things at once.
Settle in and I'll explain how the app that we have made will help you keep track of all your favorite movies, books and tv shows.
Now where did I put my knitting needles.
Miss Marple for iOS
available on the App Store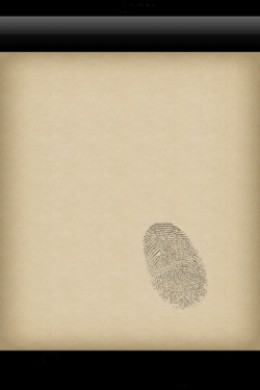 Miss Jane Marple, is normally referred to by her friends and "enemies" as Miss Marple. Close family and friends will often be heard calling her Jane. Her first appearance was in a short story in 1926, so given that there are still some TV episodes going strong, that's a fictional career of sleuthing, spanning 87 years.
We have compiled a huge list of Novels, Short Stories, TV Episodes and Movies that can fit in the palm of your hand.
Some people are unaware that Agatha Christie wrote quite a few short stories featuring many of her characters and Miss Marple was no exception. With this app, you can track down these sometimes forgotten gems and record which ones you have read and which ones you still have to discover.
I've put together this article to demonstrate how the app works so you can get the most from using it. It's very simple, even Miss Marple would love it, in between solving a murder or two.
Oops, who has left that fingerprint behind…
How Does It Work?

First of all the app is optimized to run on your iPhone 4 and if you have the newer iPhone 5 we've made sure that we've filled your screen to the max to make the most of your longer screen. It will still work on your iPad too- you know the drill – supersize it using the 2x button in the bottom right-hand corner and it will fill your screen to perfection.
You can download the app from the App store and once it's installed you'll see Miss Marple's very fetching pink hat with her infamous knitting needles sitting on your device.
A quick tap and you'll be looking at this screen.
Did you spot what was on the splash screen just before the Novel screen loaded? If you didn't catch it, it will pop back up again the next time you re-open the app.
The splash screen on apps only re-appear once you have fully closed the app down. If you just minimize it and open it up again from the dock area you will only return to the last screen you were looking at.
Keep a look out for it next time you open the app.
How to Save a Novel? – Touch the Red Circle to turn it into a Green Tick
So you've checked the list and you fancy reading a novel. First move your finger down the list and see if you've already read some of the novels. Chances are you have, but it may have been some time ago and you may want to revisit it. So dust it off your bookshelf, hunt through your Kindle collection or pop to your local library and grab the book of your choice.
The first book, The Murder at the Vicarage, may be of some interest, so tap anywhere on the book or title and it will take you to another screen where you will see a much larger book cover, a Wikipedia Link, information on when the book was written and whether you have in fact read the book. If you haven't read this particular book yet you will see a round red circle with a line through it.
Simply touch the red circle and it will change to a green tick. If you need more information, a plot summary or any other information about the novel, just touch the handy Wikipedia button at the top and it will give you all the information you need before you decide to read it. Just select Done when finished and it will take you back to the last screen you were viewing.
If you want to continue searching for other novels, just touch the Novels button and you're back at the complete list.
A Good Read
Why not pick one of Agatha Christie's wonderful Miss Marple novels, then use the app to track what you've read.
Murder At The Vicarage   A Murder Is Announced   The Moving Finger
Green Tick – You've Read It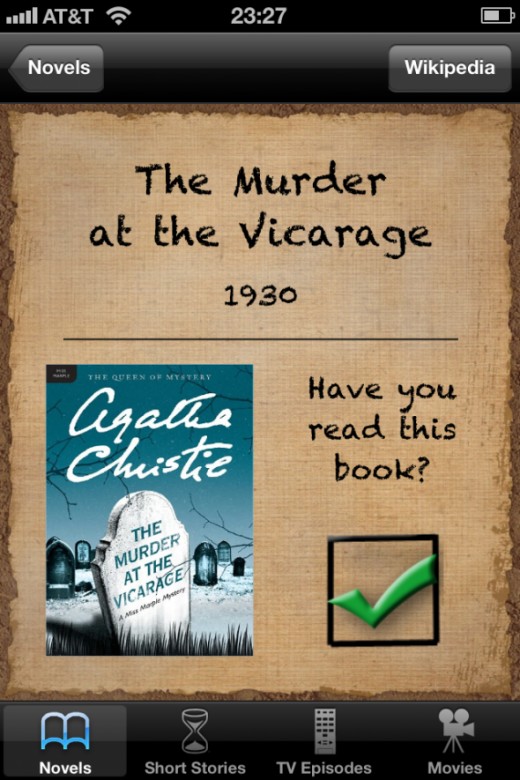 It works exactly the same way if you select the Short Stories icon too.
Just touch the Short Stories picture at the bottom and you will see a selection of books to choose from and follow the same procedure for Novels.
The hardest part is deciding which book you will begin to read.
Download on the App Store

TV Episodes – Keep track of your favorite show and don't miss a single episode
---
Do you have a favorite TV actress who played Miss Marple?
Well, we have them all covered here.
Joan Hickson played Miss Marple from 1984-1992, followed by Geraldine McEwan from 2004-2009.
Julia McKenzie then took over the role from Geraldine in 2009 and can still be seen in new episodes to the present day.
---
From The Murder at the Vicarage

DI Slack: The Chief Constable sends his regards.

Miss Jane Marple: How lovely. I have been of some assistance to him from time to time.

DI Slack: He said.

---
Stay in and watch some Classic TV
Joan Hickson        Geraldine McEwan        Julia McKenzie
Miss Marple Movies – Grab the popcorn and you're all set

We've popped in a useful IMDb link this time so you can find out all about the film before you watch it, check the reviews, see what the critics have to say or remind yourself who the main characters are.
Just like the books, short stories and TV Episode guides there's always a handy link to obtain more info. Once you've finished looking around IMDb, select Done from the top right hand corner and you'll return to the app.
---
From Murder, She Said

Inspector Craddock: Withholding information from the police is a very serious matter.

Miss Marple: Oh, I know, Inspector, and I'm most awfully sorry. Will you take tea?

---
Have you watched a good Miss Marple Movie lately?

Why not give it a try
Download Miss Marple from the App Store

IF YOU ENJOYED THIS ARTICLE YOU MAY ALSO BE INTERESTED IN Sherlock Holmes for iOS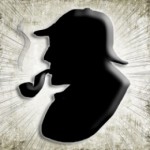 Do stop and have some tea and cake… – oh yes, I see…very interesting, very interesting indeed..I'd love to hear what you have to say before you go…