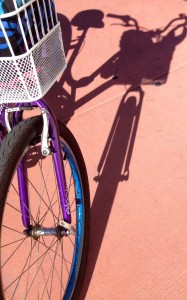 My main form of transport these days is no longer horse-power but foot power. Last year we purchased a couple of Electra Townie bicycles – one in purple and one in green. They incorporate Electra's patented flat-foot technology and an upright seated position which redefines how you cycle. It's more comfortable to ride and the leg and pedal placing seems to be in a natural position for your leg to rest as you cycle.
On a normal bike your feet are angled backwards but on my Electra Purple Townie 7D Bicycle I don't feel like my knees or hips are strained or forced into the incorrect position and it helps keep my back straight. The seat position allows me to keep my feet flat on the floor when stationary.
Electra Townie 7D Specifications
LIGHTWEIGHT 6061-T6 ALUMINUM FRAME / SHIMANO TX-35 7-SPEED W/MEGA RANGE GEARING / SHIMANO REVO TWIST SHIFTER / FORGED ALLOY CRANKSET W/44T CHAIN RING & DUAL GUARDS / ALLOY LINEAR-PULL BRAKES / DOUBLE-WALL ALLOY RIMS / 26"X 2.0" SEMI-SLICK STREET TIRES
Miami is a fabulous place to cycle and has it's own CitiBike/DecoBike program where you can hire bikes from stations dotted around the county. I won't go into detail here but you can find out about that scheme and other interesting things you can do in Miami in my article Miami Beach on a Budget. It's a wonderful program for both locals and visitors alike. If you don't own a bike or are short on storage space you can still participate in a healthier way to travel. All you have to do is find a docking station so you don't need to worry about carrying locks or finding somewhere to leave your bike.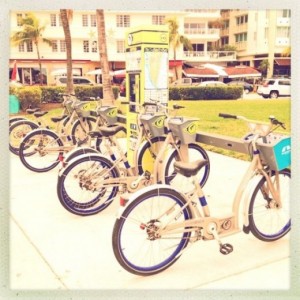 However, there are some limitations. Sometimes, at peak or busy times of the year, you may struggle to find a station with enough bikes. The second problem is they may not be working and then finding a docking station that is conveniently located to where you wish to go can become frustrating. Even with some of these problems, it is a great initiative and a step in the right direction which is more than can be said for other parts of the U.S. I don't mean that in a detrimental way – but we all know the U.S is a big car loving country and walking and cycling is not high up on the list of cool ways to get around. Maybe I can bring you over to the wild side so you can start to think of this as an alternative to get around. It's cheaper, it's fun, you can stop anywhere you want without having to pay expensive parking fees, you get fresh air and may even lose some weight along the way.
I've always had a bike from an early age. From my small tricycle when I was three all the way through my teens and beyond to the present day. Before moving to Miami I would drive most places or take public transport and only use my bicycle for recreation from time-to-time. From time-to-time I would cycle to work, or at least part way, but there's never been a satisfactory number of safe bike lanes to use to complete the journey. After living in London and cycling in a big city environment, it's fantastic to be able to use the boardwalks and state park trails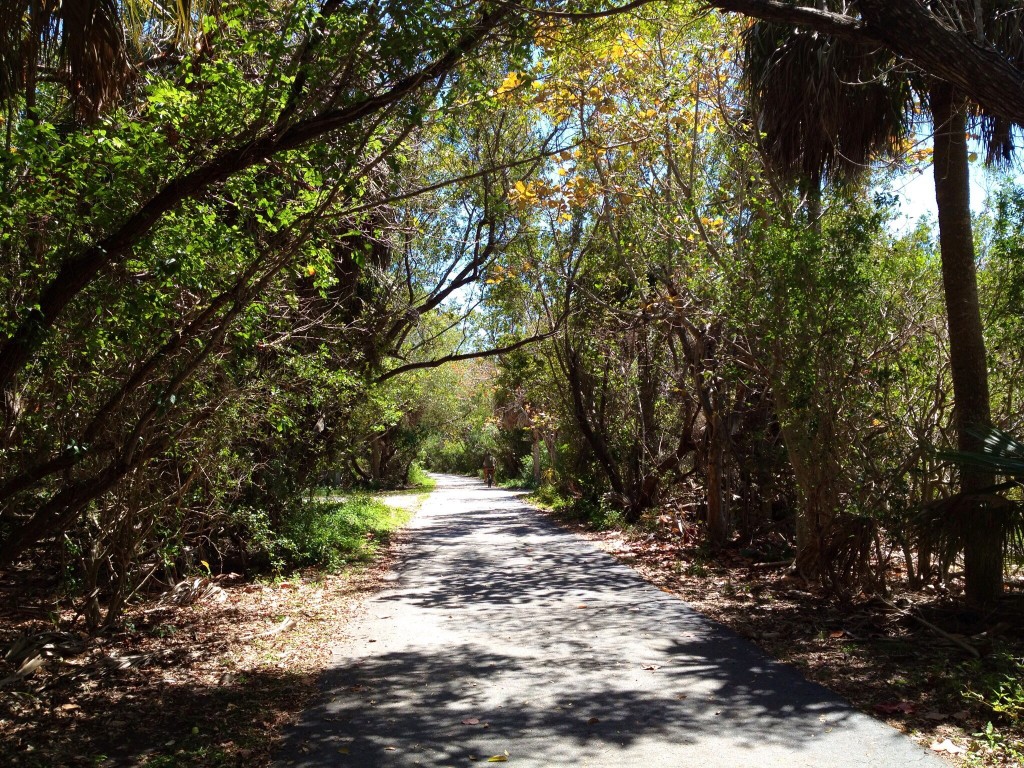 as well as some of the quieter roads of Miami Beach and the Mainland to get out and about. There's still some room for improvement, on some of those fast moving heavy traffic filled roads, but you can get around using your bicycle and of course we are blessed with amazing weather all year round. There are lots of initiatives to extend the current biking trails and cycle routes so we're becoming quite the Amsterdam of the U.S!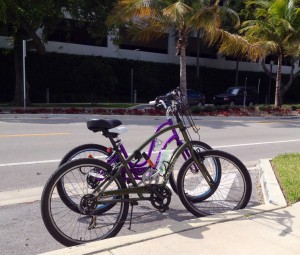 After using the Citibike/Decobike initiative for a while, it became apparent that it wasn't quite what we needed for our everyday cycling trips. The bikes are too bulky and heavy for everyday cycling and fitness and they became unreliable. The stations were sometimes offline or there were no free bikes available and walking to the next closest station sometimes proved less than fruitful. Even if you persevered and hiked to the next station you may still be out of luck (believe me it's happened several times) and whilst the Miami sunshine is pleasant, add the humidity to a several block hike and it becomes less than humorous after the tenth time of no available bike to undock.
The solution became apparent, if we wanted a reliable form of transport we had to buy some bikes. After visiting our local neighborhood bicycle shop The Miami Beach Bicycle Center for some great advice we came away with the Electra Townie 7D bicycle. It's light, comfortable to ride and has been reliable so far.
There are a few additional items you should consider once you've purchased your bicycle. Here are a few items I have found invaluable to make my cycling experience more pleasurable.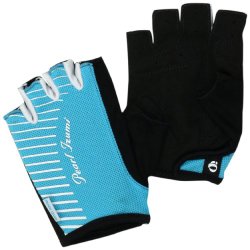 We already had some cycling gloves and can recommend them as a useful purchase. They come in various designs, full fingers, cut off fingers as well as gel pads strategically placed on areas where you put pressure on your hands when holding the handlebars. For bumpy terrain or just when you've missed that pothole they can really cushion your hand, wrist and arm muscles so you can relax your grip.
For longer journeys it became necessary to invest in some good padded cycling shorts. Don't worry, you can stop picturing yourself clad in tight full body Lycra mode, there are other options today. There are some regular looking shorts which pack a secret padded section to help you have a more comfortable ride and stop the ache you sometimes feel afterwards and often in the days to come. Some shorts have a removable padded insert so that you can wear the non-padded part of the shorts separately.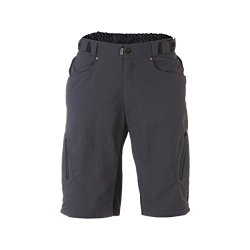 After using padded shorts I'm a complete convert. You really do notice the difference and whilst on very long rides you can still feel a mild ache it is much less than if you were only wearing regular shorts or cycling gear without the padding.
You can wear any t-shirt or top that you wish when you cycle but there are many shirts that now help wick away moisture from the skin. This is a useful item to have if you live somewhere hot or you intend to cycle long distances as they help you remain cool and comfortable during and after the cycle which is an added bonus. The cooler you feel the more you'll want to be out and about on your bicycle.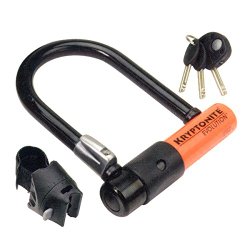 To complete the experience, we invested in some good locks. However safe you think your neighborhood is, it's always a good idea to buy some locks. When you travel away from home you will want to be able to secure your bike to a post or bike rack.
Other useful items: – a basket to help carry shopping or bags. A small toolkit is useful in case of any mishaps especially flat tires that can happen at any time. Front and Rear lights, a small portable foot pump, bell and a water bottle and holder are all good essentials.
The other thing you discover when you own a bike is that you are more up for exploring your neighborhood. When we bought our bikes from our local shop we discovered they did a monthly community bike ride with police escort.
If you're in the neighborhood come and join us on the second Saturday of each month. Grab a Citibike, rent one from the store or bring your own. More details can be found here.
Happy and Safe Cycling!