From time-to-time in the relative calm of Miami Beach you will suddenly hear raging squawks that sound a bit like hysterical laughter. Looking up you will see three or four green birds flying above. Yes, they even "talk" noisily during flight. Occasionally you will see them sitting quietly together on overhead wires but they can't keep quiet for very long. I guess they have a lot to say and want to tell everyone and anyone who will listen how super happy they are. Why wouldn't they be…they live in Miami.
I've been calling them wild green parrots for a while but I have recently found out that they actually called Mitred Parakeets. I've been referring to them as wild green parrots as they are considered feral but I like my description better.
They were imported into the U.S. in vast quantities, around 140,000 birds, from South America in the 1980's. They settled in New York, Los Angeles and Miami and can still be seen in those areas today.
Have they migrated anywhere else? Have you spotted any Mitred Parakeets in your neighborhood?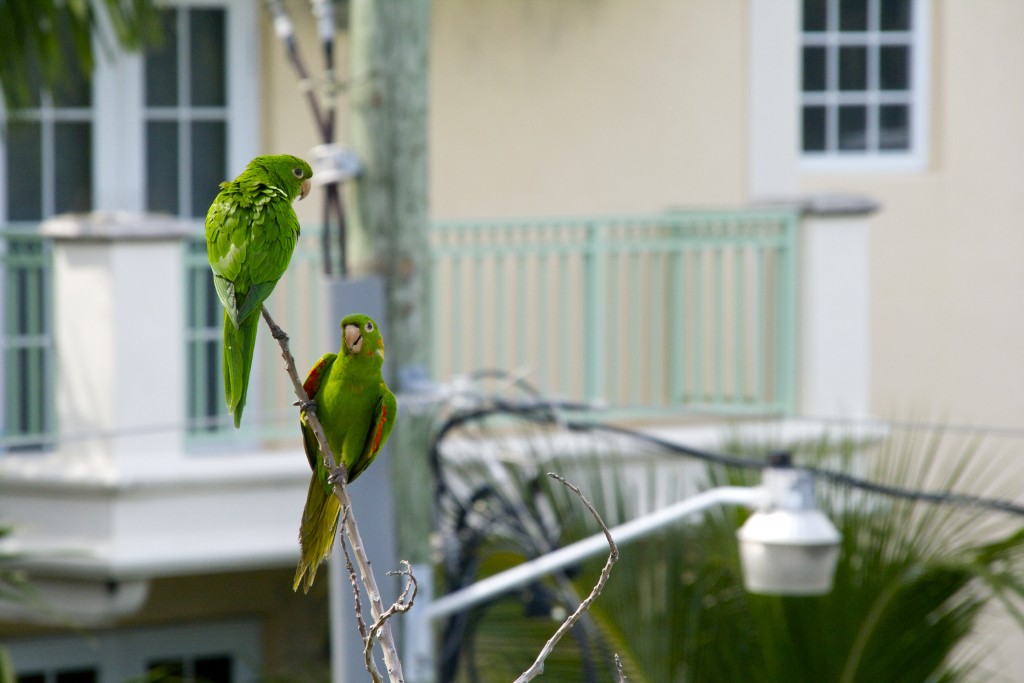 The Mitred Parakeet (Psittacara mitrata), also known as the Mitred Conure (Aratinga mitrata) in aviculture, is a species of green and red parrot in the Psittacidae family. It is native to the forests and woodlands in the Andes from North-Central Peru, South through Bolivia, to North-Western Argentina with introduced populations in California, Florida and Hawaii
They are such pretty birds but extremely loud for their size which can be quite a surprise. You definitely hear them before you see them! Their feathers are bright tropical green with patches of red and occasional yellow flecks. They are nosy and social birds as you can generally spot them in pairs or small groups.
Here are some pictures I've managed to capture of our feathery friends:-
They tend to disappear around November time and return Feb/March.
I'm not sure where they go during that time but it's nice to have them back.
If you are interested in finding out more about the Mitred Parakeet or Mitred Conure please check out the following links:-