Add Miami Beach to your dream vacation destination list as I uncover how to save money and keep within your budget. What are you waiting for, grab the sunscreen and order a Mojito the beach awaits.
You CAN visit Miami on a Budget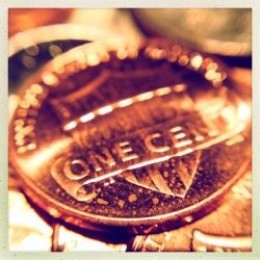 When you think about Miami as a destination, do you also add the words, expensive, too rich for my pocket, unaffordable, way out of my league…love to visit, but lets go somewhere else?
Are you torn between re-mortgaging the house and breaking into the kids college fund because those white sandy beaches, clear blue sea and cloudless sun drenched sky are just reaching out to you?
Well, it's no longer a dream, you can take a trip to Miami. So, grab the sunscreen, your bathing costume and get packing as I'm going to reveal how you can you do Miami on a Budget and still have change left over to treat yourself to your favorite cocktail.
---
A Is For…

---
There is a cheaper alternative to 5* without the 1* treatment
Sure, there are the glitzy glam hotels that you can stay at such as The Biltmore,
The Delano or The Mandarin Oriental but there's a much cheaper, more fun way to stay and feel like you're still at home.
Have you ever heard of Airbnb? Well now you have and it's about to save you a packet.
AirBnB At a Glance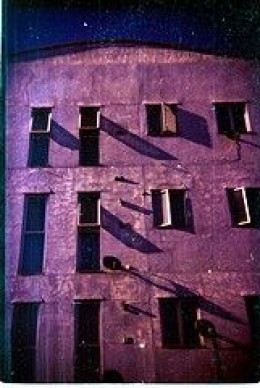 Founded in August of 2008 and based in San Francisco, California, Airbnb is a trusted community marketplace for people to list, discover, and book unique accommodations around the world – online or from a mobile phone. Whether an apartment for a night, a castle for a week, or a villa for a month, Airbnb connects people to unique travel experiences, at any price point, in more than 33,000 cities and 192 countries. And with world-class customer service and a growing community of users, Airbnb is the easiest way for people to monetize their extra space and showcase it to an audience of millions.
Info courtesy of Airbnb
The great thing about staying in Airbnb accommodation is that the house, apartment or condo actually belongs to a regular person. I can personally recommend this for your staycation. Not only do you get a great price, but you get to meet a local who will be more than happy to give you lots of tips and help to make your stay even more fun and if you're having fun, you're on the way to vacation relaxation nirvana.
There are lots of options. Some owners offer a room in their apartment or home, a great idea if you're travelling on your own. Others allow you to book the whole apartment, condo or house so you'll have the whole space for you and your family. The choice is yours.
You also get to stay in the interesting parts of town but there's also lots of choice if you want to be in the heart of the action near Ocean Drive or you want to stay in a condo by the beach or an apartment nearer Lincoln Road. You're not tied to the expensive hotels or the cheapest anymore and you can pretty much choose the location and area that suits you.
Have a goodnight now!
Airport to Beach
Saving begins at the Airport
You've booked the tickets (we'll delve into saving money on Flights and Travel
later so stick around) and you've arrived safely at Miami International Airport. You've grabbed your suitcases from the carousel and started to peel off that jumper you had to wear on the plane – it really is hot here so wear layers you can remove or put those shorts in your hand luggage and change in the restroom.
Anyway, I digress…you need to know how to get to the beach, right?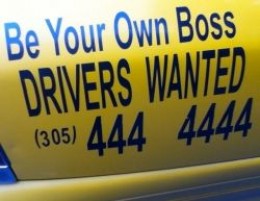 You could grab a taxi or a shuttle but that's going to set you back between $25 to $40 dollars before you've even set foot on Ocean Drive so here are two great ideas to help you get closer to the surf.
My number one tip – take the bus. Yes, that's right. It's not just any bus though, it's the "AIRPORT FLYER" bus that will take you directly to Miami Beach for an amazing $2.35.
For just $2.35 each way, passengers can ride in style aboard 40-foot air-conditioned buses equipped with luggage racks and comfortable seating.
The Miami Beach Airport Flyer runs every 30 minutes and provides express service from 6 a.m. to 11:40 p.m., seven days a week, between the Miami International Airport Metrorail station and Miami Beach, from 41st Street to South Pointe Drive, so it's bound to have your final destination covered.
With free WI-FI on-board too you can waste no time updating your Facebook status to let everyone know you've arrived.
All aboard.
Airport to Downtown
Getting Around just got a whole lot easier
If you're taking a vacation in South Miami or nearer uber chic Brickell then read on. You may be arriving into Miami for a business meeting Downtown, well this is a great option for you and your boss will love your expense sheet.
Well, here's my second tip. Take the newly opened Metrorail from Miami International Airport.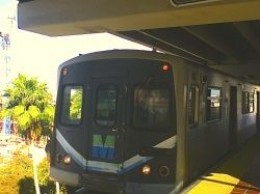 The cost of the trip is a wallet bursting $2.00. The fare gates do not accept cash so grab an EASY card or EASY ticket from the vending machine and you're good to go. I'll be going into more detail about these cards later in this article.
Here's where the Metrorail Orange Line will take you:-
Earlington Heights
Allapattah
Santa Clara
Civic Center
Historic Overtown/Lyric Theater
Government Center
Brickell
Vizcaya Coconut Grove
Douglas Road
University
South Miami
Dadeland North
Dadeland South
Art Deco Architecture
Miami is well known for it's Art Deco looks so why not take yourself off on a self-guided walking tour of Miami Beach's Art Deco architecture.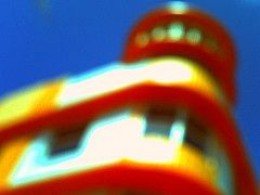 Pop over to Trail and print out the trails or better still, save some paper and a tree and get their app for $1.99. Keep an eye on the app store as the price may reduce to 99c or FREE from time-to-time.
Alton Road Trolley
Take the Free Ride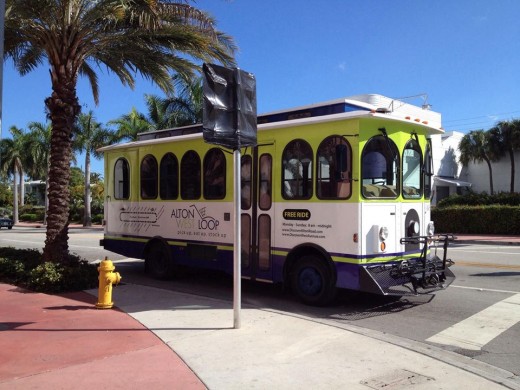 To compliment the cheap Miami Beach Local Bus, the Mayor of Miami has introduced a free Trolley service which takes passengers North from 5th Street up to the pedestrianized shopping area of Lincoln Road on 17th Street. The route then returns via the quiet road of West Avenue. The service runs every day from 8am to midnight.
Great way to get around for free or to take a mini sightseeing tour. Did I mention it has air conditioning and free wi-fi too?
If you are a car driver, don't forget to ask the driver for a trolley voucher. With this voucher you will receive free four hour parking at the Fifth & Alton Parking garage (the trolley conveniently stops just outside) so you can explore the shops in the Mall. Even more reason to love the Alton/West Loop Trolley.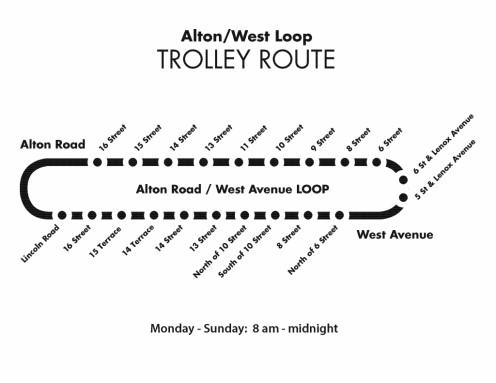 ---
B Is For…

---
Breakfast
Start the Day the Best Way
The cheapest option is always to have breakfast at home, or at least your temporary vacation home. If you've taken my advice and opted for Airbnb, then the the chances of breakfast being included is slim. However, you may be lucky to be staying with your host in which case joining them for breakfast with the offer of doing the dishes after would probably guarantee you a hearty breakfast for most of your stay. You can always volunteer to cook breakfast too, just ask what your host offers.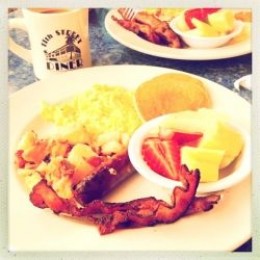 Your apartment may come with a fully equipped kitchen – no excuse for you, get scrambling those eggs and crisp up that bacon and pass me the O.J.
But hey, you came on vacation to get a break away from your regular routine and you want someone else to do the cooking and clean up those dishes.
Here are some fantastic cheap, but good quality places to try for Breakfast.
LAS OLAS CAFE, SOUTH BEACH, 644 6th Street, Miami Beach, FL.
Cafe – A Cuban Restaurant
Located one block west of Washington Avenue, on the corner of 6th Street and Euclid Avenue.
A great place to get Breakfast any time of the day. They also offer sandwiches, empanadas and fresh juices.
THE ELEVENTH STREET DINER, 11th and Washington Avenue
You can't go wrong with anything from their menu but a good breakfast option is The South Beach Breakfast. 2 Eggs, 1 Sausage, 2 Bacon strips, Home Fries or Grits, 2 Dollar Pancakes and a fruit cup. After this you won't have to eat for quite a while.
THE TASTE BAKERY, 1686 Jefferson Ave, Miami Beach, FL
PANERA BREAD, 1428 Alton Road, Miami Beach, FL
Try their Oatmeal with Strawberries and Pecans or a hot Sausage and Egg Sandwich
A LA FOLIE, Espanola Way
If you're more the sweet pastry and coffee type of breakfast aficionado then look no further than this leafy garden bistro for your Pain au Chocolat fix ($2) with a rather large and frothy cafe au lait ($4)
A bit further afield but worth the journey
BUENA VISTA DELI, 4590 NE 2nd AVE Miami, FL. Charming French Cafe based in Miami's Design District
If you're looking for a simple breakfast try Beuna Vista's light offering called The 7AM. Coffee or tea, fresh fruit salad, croissant for $4.95
S&S DINER, 1757 NE 2nd Avenue at 17th Street
Not only do they do a cheap breakfast but you'll be eating in Miami's oldest diner. For $3.40 you'll get two eggs, potatoes, and toast, coffee or tea. What are you waiting for!
SWEET POINT BAKERY AND CAFE, 3252 NE 1ST AVE SUITE 108, MIAMI FL, Midtown Miami
Do you need to start the day with a Power Breakfast? You can have oatmeal with salted almonds and bananas for $4.95
GREENSTREET CAFE, Coconut Grove
Omelettes ($8-11.50)
Pancakes and Home-Made muffins ($3.20)
BUS
South Beach Local
It's great value and some of the areas and attractions you can reach by taking the South Beach Local bus are ~ Belle Isle Park ~ Venetian Way ~ Miami Beach Golf Club ~ Holocaust Memorial ~ Bass Museum of Art ~ Miami City Ballet ~ Miami Branch Library ~ Miami Beach Convention Center ~ City Hall ~ Lincoln Rd ~ Espanola Way ~ World Erotic Art Museum ~ Old City Hall ~ Wolfsonian Museum FIU ~ Art Deco Welcome Center ~ Jewish Museum
Hop on board the South Beach local bus and take a trip for just 25c.
For an amazing 25c you can go from North Bay Road, Dade Blvd and down Washington Avenue.
The bus takes quarters, nickels and dimes or you can pay using the EASY Card.
The bus is air-conditioned, wheelchair and bike accessible and you can also benefit from free Wi-Fi.
It's a great choice if you want to take a circular sightseeing tour of South Beach.
BEACH
Just in case you didn't know
If you love the sun you've definitely come to the right place and what better way to relax but with a day on the beach and dip in the ocean. To top it all, it's absolutely FREE.
Weekdays are normally quieter than weekends, but that doesn't mean you won't find a quiet spot.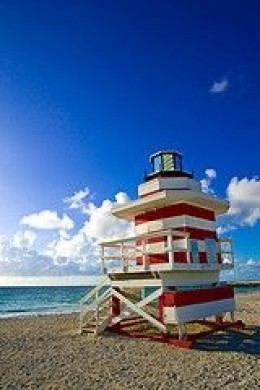 Look out for the iconic colorful Lifeguard Huts they're really fun and every one is different. Which is your favorite?
South Beach – stretches from the Southern tip of the island at South Pointe to approximately 23rd Street.
The "Mid-beach" area can be found between 23rd Street and 63rd Street.
North Beach starts from about 63rd Street on up.
BASKETBALL
999 11th St Miami Beach, FL 33139
Check out the FREE Basketball Courts at Flamingo Park or make some new friends, show them your moves and and join one of the games already taking place. There are some handy benches around so you can watch a game..you never know, you may be watching a future Miami Heat player training.
Botanical Gardens
2000 Convention Center Drive Miami Beach, FL 33139
Explore the gardens and the exotic plants at Miami Beach's Botanical Gardens.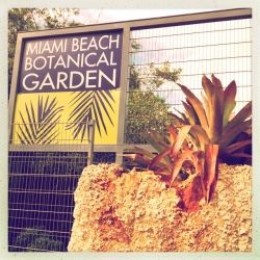 FREE entry.
Look out for the special events and markets that take place throughout the year.
Open Tuesday to Sunday from 9 a.m. to 5 p.m.
Boston Market
Home Style Food
If you like eating out but crave home style food for a great price, well look no further than the Boston Market.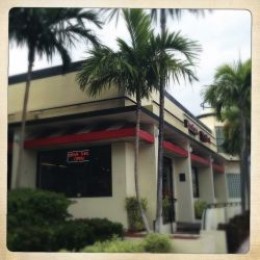 If you like Roast Chicken, Meatloaf, Corn Bread, Baked Ham, Fish, vegetables, sides galore and old fashioned apple pie you're going to think you've died and gone to heaven.
The prices are great, the staff friendly and the refillable drinks are a bargain.
They have parking and a drive through window or sit at one of the tables inside.
Visit soon, you won't be disappointed:-
Sadly the 1750 Alton Rd location has closed but if you really fancy the taste of good home-cooked food at great prices why not visit the one at Coral Gables.
---

C Is For…

---
CARDS – A selection of the must have cards that will help reduce costs wherever you go
The Belly Card is accepted at quite a few places in Miami. Collect rewards at ice-cream parlours, cafes, nail bars, spas and more. Start collecting while enjoying the treats on offer. Image courtesy of bellycard.
COCONUTS
FREE – They're everywhere
If you're not lucky to find a full one or they all seem to be empty, there are a number of locals who you may see climbing the trees to get the coconuts. The other way the coconuts are collected are by large pole type devices that are poked at the coconuts to make them fall to the ground and then popped into huge bins. The sellers will cut them open and pop in a straw for a nominal charge. Enjoy!
COFFEE – Wake Up and Smell the Coffee
There's nothing like a good cup of coffee especially if it's a bargain cup of coffee.
Coffee refills are plenty a dozen, so when you've bought one cup of joe another one will be along to keep you topped up but here's a list of where to get the first one at a great price.
7 Eleven – $1 Coffee Wednesdays for any size
Starbucks – Whilst it's definitely not known for it's cheap coffee, here's an insider tip. Grab one of their free cards, load up some money and you're on your way to collecting stars which turn into free coffee. They also turn into free food too but this is all about the coffee. Once you reach Gold level, which if you're a caffeine addict shouldn't take you too long, you can get refills for FREE.
7 Eleven (again) – buy one of their reusable tumblers from $1.99 and all refills will only cost you 99c. Don't you just love a bargain.If that wasn't enough, when you buy your new tumbler the first coffee is FREE.
Las Olas Cafe – the best cafe con leche this side of Havana $1.50
Shop 'Til You Drop – With all the money you're saving you can afford to splash out on some cool items for your vacation
---
D Is For…
---
DECOBIKE – Go Green, see the sights and exercise too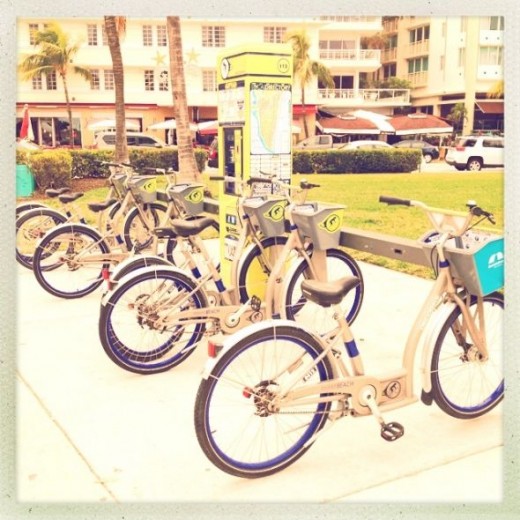 Grabbing a DecoBike has to be one of the funnest and healthiest ways to get around Miami Beach.
The bike sharing and rental scheme is fabulous and there are plenty of bikes and stations dotted around so there's bound to be one close by and they are available 24hrs a day.
If you're having trouble though, why not download the handy app so that you can find the nearest station right from your phone. The app has a handy map, location finder and it will tell you how many bikes are available and you can narrow the search to look within your radius.
You can sign up for Membership or just pay by the hour using a credit card.
If you opt to take a bike for an hour you can dock the bike at another station and un-dock it again for no extra charge as long as your hour hasn't expired. The first 30 mins is always FREE.
Pick up a bike as far South as South Pointe and travel as far as Surfside and Bay Harbor Islands. Handy maps can be found on the stations so you can always find where your next nearest station will be.
In 2015 the program will be expanding it's reach to Downtown. That's great news for everyone. The stations look slightly different so please check with DecoBike for docking compatibility before taking your Miami Beach DecoBike across the bridge.  They have also recently co-branded with our friends at CitiBank so look out for the Citibank logo too.
If you fancy a self guided Art Deco tour, grab one of the maps provided by DecoBike and you're ready to roll.
If you need to speak to someone face-to-face they have a small office located on Washington Ave:-
DECOSTORE
723 Washington Avenue
South Beach, FL 33139
(305) 532-9494
Open 7 days a week:
Mon, Wed: 10am-5pm
Tue, Fri, Sat: 10am-6pm
Thurs: 10am-7pm
Sun: 12pm-6pm
Hours are subject to change for major holidays and event weekends. Please call ahead.
---
E Is For…

---
Entertainment – Save $$$$$$
Electric Golf Cart
FANCY A FREE RIDE
There's no such thing as a free ride, well I'm about to blow that saying right out of the window.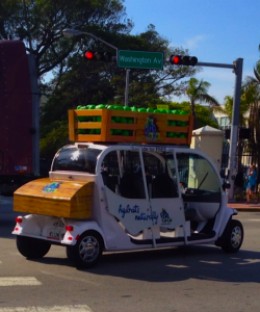 SWOOP taxi is a six-passenger white electric golf cart that will pick you up and take you anywhere within the South Beach area for FREE. No fare required but then you may want to tip the driver.
Hail one as they drive by or phone ahead and ask to be picked up. They run from noon to 2am daily.
Now if that's not Miami Beach on a Budget, I don't know what is.
EXPLORE
ARCHCREEK PARK
Look out for the Nature Trail Walks for only $3 per person
CRANDON PARK AND BEACH
A 2 mile stretch of beach which is often named in the top ten beaches to visit lists. Look out for the special offers on bird and butterfly walks they have on offer
Crandon Park, Miami –
Crandon Park, 6747 Crandon Boulevard, Key Biscayne, FL 33149, USA
Check Out
MIAMI ON A BUDGET PART 2
Before you go you may also be interested in my article – MIAMI ON A BUDGET PART 2 – FOR GREAT MONEY SAVINGS FROM F to J
Before you Go…Sign the Guestbook – It's also FREE