Just when you thought AI, and Midjourney in particular, couldn't get any more mind blowing, they turn around and deliver another tool to fuel your creative journey.
How do you use the /describe command feature?
I was excited to see the introduction of this new command. I will be using an image that Midjourney created from my own prompt. Then, I will use the new /describe command feature to see what results it will return.
Here are the THREE easy steps to get you going.
Step 1
First you will need access to Midjourney. There's a fantastic Midjourney Bot you can connect with Discord too.
Learn How To Connect the Midjourney Bot to your Discord account here.
Once you have that set up you can chat directly with the Midjourney Bot via Direct Message which is awesome.
You can learn about the free and paid options available to you, by visiting the Midjourney Website.
Step 2
Next up, find an image. This can be anything from photos stored on your computer, images already generated by Midjourney, or your AI of choice and anything in between.
Here's the image I used to demonstrate the new Midjourney /describe command.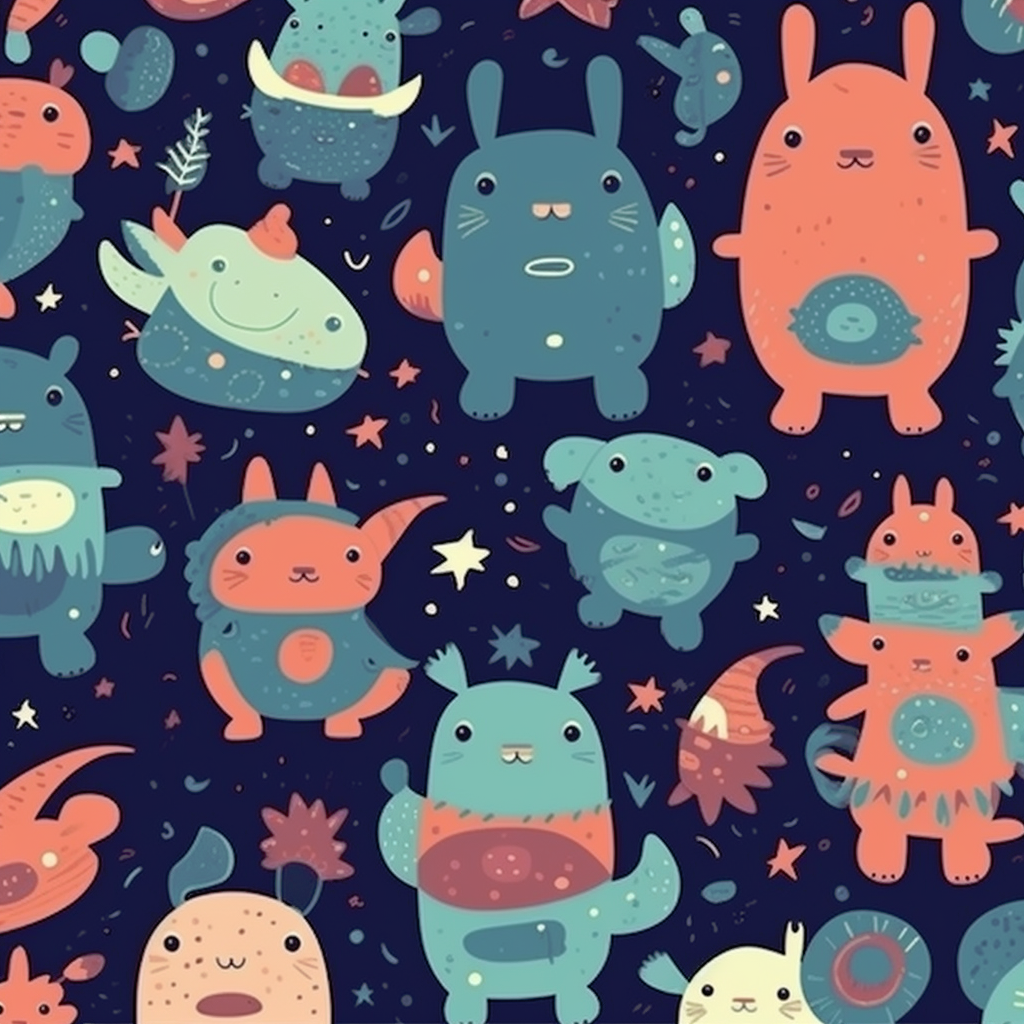 What a cute design. I generated this image using Midjourney but I'm struggling to describe what I'm looking at. Well, that's not strictly true. I did provide Midjourney with the prompt to create this image. However, I'm now interested to see how the Midjourney Bot will /describe this image back to me. It did create it after all, so it should know right?
Step 3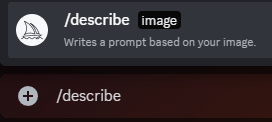 Add the /describe command to the text field and use the image URL of the image you want to use in the prompt box.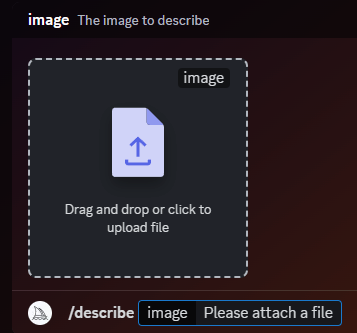 Attach an image file by dragging and dropping it inside the box or clicking to upload a file from your computer. When you've found the perfect image, hit enter and wait to see the results.

After a few seconds, here are the four prompt descriptions Midjourney provided after analyzing the image.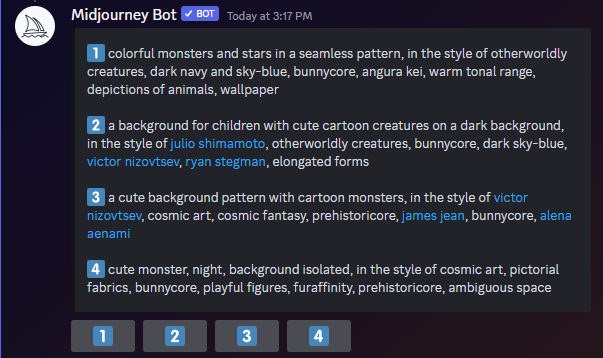 Click on any of the numbers to generate a brand new image based on the prompts it made from the image provided.
Let's go crazy and see what the new results are from all of these prompts.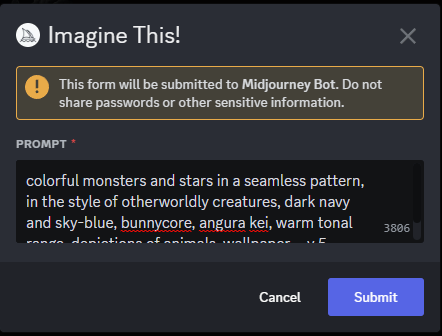 Click Submit and wait for the magic to happen. Here's what Midjourney delivered.
Prompt 1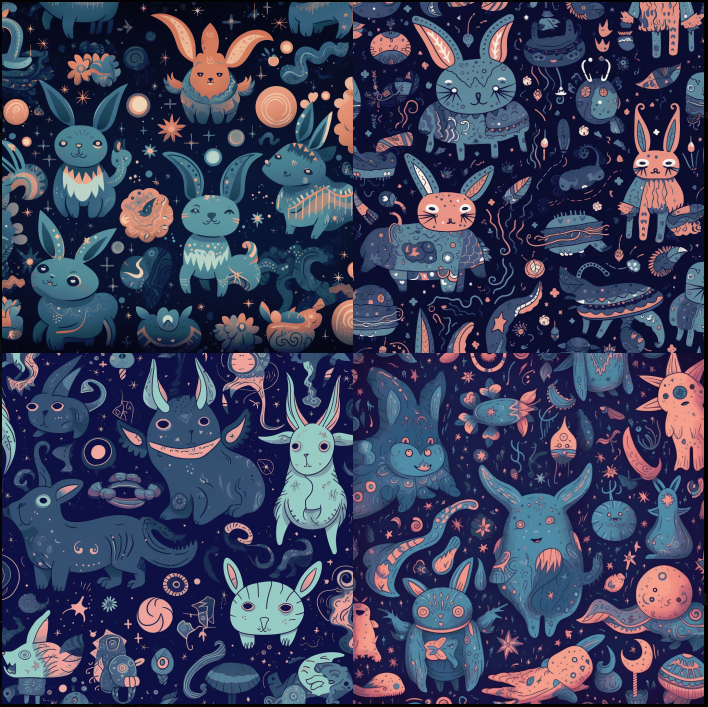 Prompt 2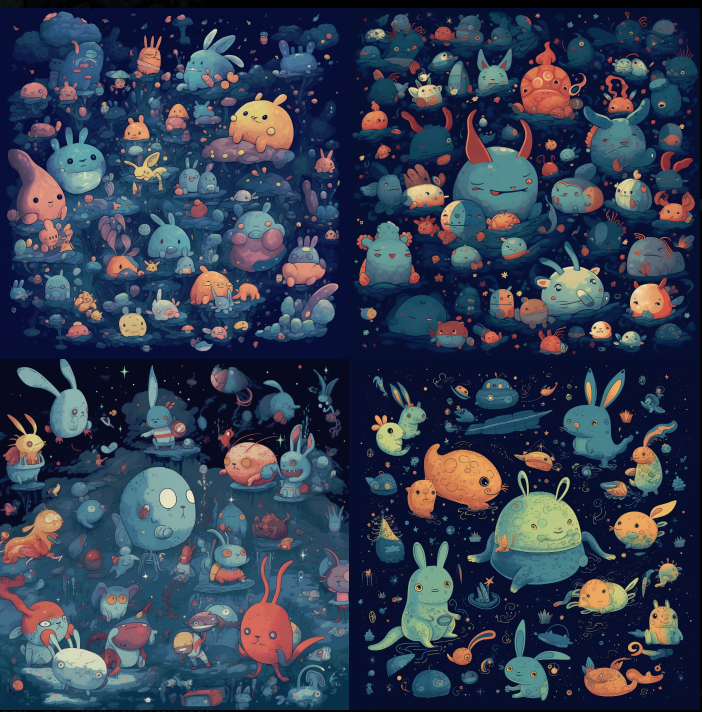 Prompt 3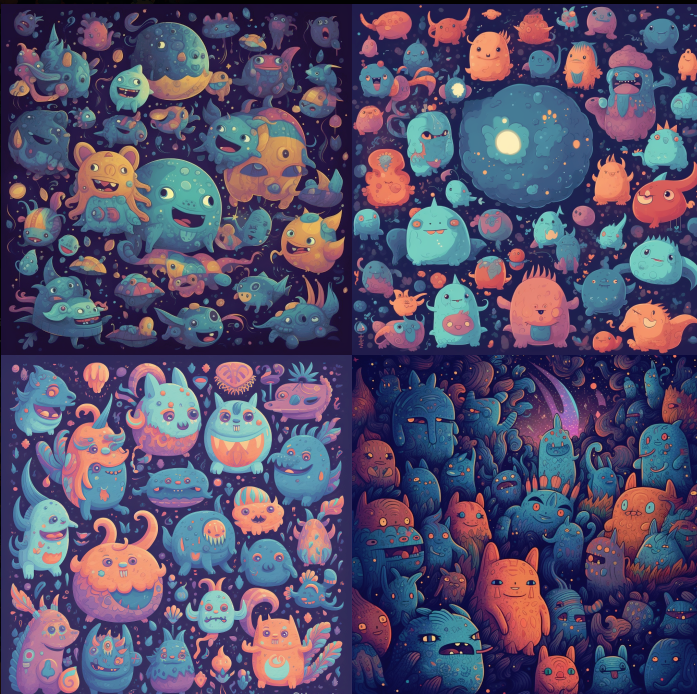 Prompt 4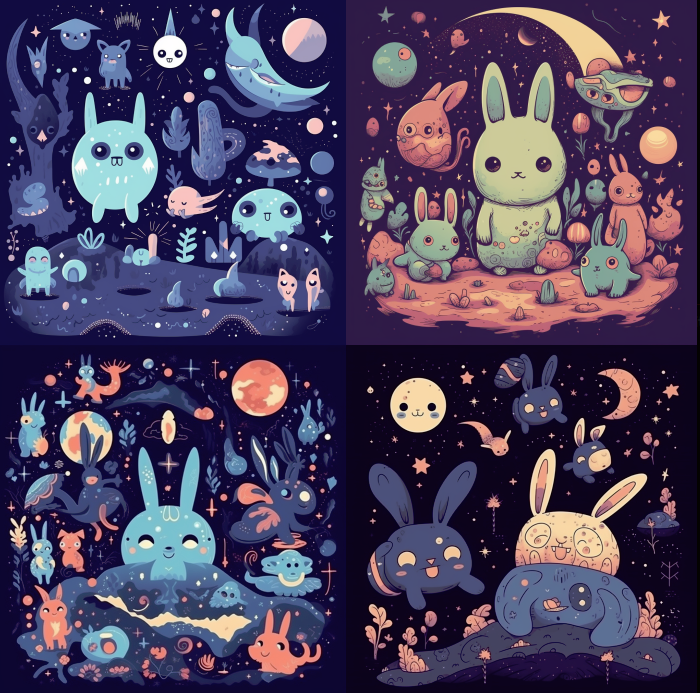 Result
Whoosh…I now have 16 new images! Looking at the prompts Midjourney returned, I see new interesting words, artist names, and descriptions. Learning how Midjourney sees images this way will help improve our own vocabulary to better communicate with our AI friends.
A few words in the prompts stood out to me…I want to find out more!
What, for example, is a bunnycore? or furaffinity? an angura kei?
Midjourney also picked up on the styles of various Artists in the original image.
Julio Shimamoto, Victor Nizovtsev, Ryan Stegman, James Jean, and Alena Aenami.

Find out more about their styles and work by clicking on the names above.
Do you see any of the artist's styles reflected in the original image?
Which is your favorite remix of the original image or do you prefer the starting image?
Do you find Midjourney's new /describe feature helpful in learning how to feed better prompts to the AI, to achieve the results you are looking for?
Let me know your thoughts in the comments below.
I know…you need to know!
According to urbandictionary.com here are the definitions of those interesting prompts:
bunnycore – this is a quite rare aesthetic that is centered around bunnies, obviously. The visuals include bunnies, vegetable gardens (or gardens in general)
furaffinity or Fur Affinity – a art community of furry artists.
angura-kei – a movement who influenced many manga artists
You can learn more about using images and prompt commands in my article:
How do you use an image as part of a prompt in Midjourney?