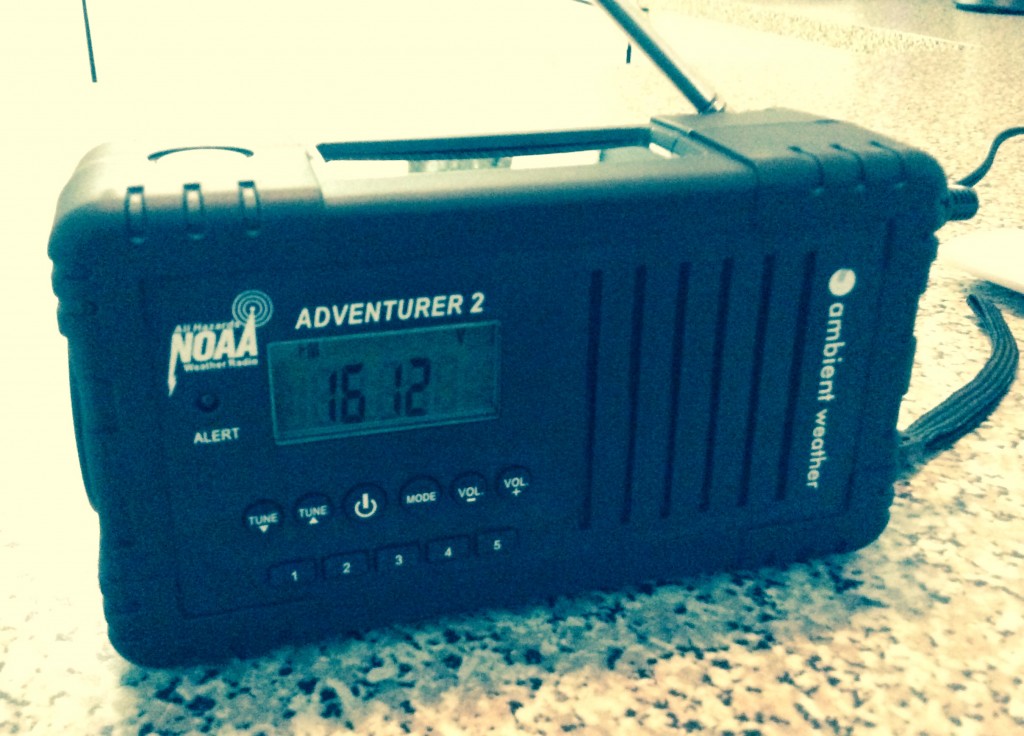 For a while now, we've had our eye on a radio and this is the one we've finally bought. It arrived from Amazon in a large package with quite a few other treats but let's not worry about those when this was the star of the show!
First of all here's his full title:
AMBIENT WEATHER WR-335-SOLARBAG ADVENTURER2 EMERGENCY SOLAR HAND CRANK AM/FM/SW/WB WEATHER ALERT RADIO, FLASHLIGHT, SIREN, SMART PHONE CHARGER AND SOLAR BAG KIT
We get all of that for the great value price of $99.99 plus free two day shipping – don't you just love Amazon Prime. The other great thing is that it shipped via USPS so we didn't have to stick 20 messages on the front gate especially for our friends at UPS (not to be confused with USPS). The great thing when they deliver using the United States Postal Service is, just like Santa, they use their special super powers to open all the doors not matter whether your a small condo complex or the Portifino – how do they do that? But that's for another article.
Let's have a look at what features are packed into this small compact radio.
FEATURES
USB Charging Cable
10-in1 Charger for Multiple phones
USB power output port is compatible with Apple iPhone, iPad and iPod devices
Bright LED Flashlight
Flashlight provides flashing nightlight "beacon" when AC power goes out
Flashlight intensity: 35 lumens
Siren: 125 db
Retractable Antenna
Headphone Jack for personal listening
Audio input jack for listening to your media players (smart phones, iPods, mp3 players) wrist strap
Dimensions: 6.0″ x 3.25″ x 2.0″
Weight: about 1lb
SOLAR BAG SPECIFICATIONS
Dimensions: 9.5″ x 6.5″
Weight: 0.2 lbs
Zippered mesh radio compartment with elastic retrained strap
Carrying strap
Separate connector storage compartment
Integrated 5Vdc USB output port
The Adventurer2 is packed with so many features and is a must for any emergency toolkit, out camping bag or just hanging out at the beach. The WR-335 combines multiple emergency features into one compact package. The WR-335 is a Digital AM/FM/SW NOAA Weather Alert Radio. It also has a powerful LED flashlight and siren.
It can charge up the following devices:-
MP3 player
MP4 player
Amazon Kindle
Apple iPod
iPad
iPhone
USB charger
all in one portable package. Also includes a handy AC adapter.
The great thing about this radio is that is delivers complete independence from wall power or disposable batteries, ensuring sustainable access to vital information and the peace of mind that you'll never be without power.
In direct sunlight this radio will charge itself and play continuously – the internal Lithium Ion battery can be fully charged from an external USB charging adapter. – how cool is that. It is capable of providing days of playtime at normal volume, when fully charged.
Ideal for camping and off-electrical grid applications, the Solar Panel and Carrying Bag for Ambient Weather Hand Crank Emergency Weather Radios is an ideal accessory for the emergency radio and our model radio – the WR-335 came with a lightweight solar bag with mesh back to hold the radio. Ideal for your backpack. We're lucky to live in the Sunshine State so topping up the battery is going to be a breeze on the balcony!
Ambient Weather Solar Bag Adventurer2 Emergency Solar Hand Crank Radio
However, the day it arrived the sun decided it was shy and hid behind a mass of clouds. The temperatures have dropped to around 63F/17c just as it arrived so we're going to have to test the solar bag when the sun comes back. There is a. Red light indicator to show when the panels have enough power to be effective. The radio itself also has a small solar panel strip to help keep the power topped up but it's not very wide so it'll be interesting to see how it goes.
High Quality Tuner
The WR-335 high quality digital tuner provides assured access to news, weather information and illumination whenever and wherever you need it. Also includes five preset channels. The rubberized finish makes the WR-335 a robust radio for hiking and camping. Also included is an alert mode, which will activate the weather band while in standby mode when a weather alert is active in your area.
The Shortwave Radio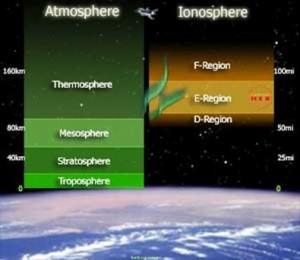 The shortwave radio receives frequencies between 2.300 and 23.000 MHz. The primary advantage of shortwave is their ability to propagate for long distances by bouncing off of the ionosphere, making it possible to listen to communications worldwide. Additionally, shortwave is used for two-way international communication by amateur radio enthusiasts for hobby, educational and emergency purposes.
Ionosphere Overview

The ionosphere is defined as the layer of the Earth's atmosphere that is ionized by solar and cosmic radiation. It lies 75-1000 km (46-621 miles) above the Earth. (The Earth's radius is 6370 km, so the thickness of the ionosphere is quite tiny compared with the size of Earth.) Because of the high energy from the Sun and from cosmic rays, the atoms in this area have been stripped of one or more of their electrons, or "ionized," and are therefore positively charged. The ionized electrons behave as free particles. The Sun's upper atmosphere, the corona, is very hot and produces a constant stream of plasma and UV and X-rays that flow out from the Sun and affect, or ionize, the Earth's ionosphere. Only half the Earth's ionosphere is being ionized by the Sun at any time.

During the night, without interference from the Sun, cosmic rays ionize the ionosphere, though not nearly as strongly as the Sun. These high energy rays originate from sources throughout our own galaxy and the universe — rotating neutron stars, supernovae, radio galaxies, quasars and black holes. Thus the ionosphere is much less charged at nighttime, which is why a lot of ionospheric effects are easier to spot at night – it takes a smaller change to notice them.

The ionosphere has major importance to us because, among other functions, it influences radio propagation to distant places on the Earth, and between satellites and Earth. For the very low frequency (VLF) waves that the space weather monitors track, the ionosphere and the ground produce a "waveguide" through which radio signals can bounce and make their way around the curved Earth.
The Solar Bag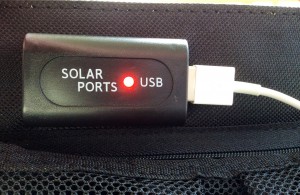 The solar bag has separate compartments for the radio and connector cables. The emergency radios have small solar collectors (limited by the size of the radio), and take a significant amount of time to charge the radio. The solar bag's 9.5 x 6.5 inches surface area is large enough to quickly charge the emergency radio in direct sunlight.
The instructions say that the solar bag is only to charge the radio using the power of the sun…but we thought we'd see if it was powerful enough to at least revive an iPod Touch. It wasn't completely empty but the battery was showing red so let's see how it goes. It was put outside at around 10am – we'll check it in a few hours as again today the sun is being shy and hiding behind some cloud cover but the light is stronger than yesterday so it may do ok.
The Solar Test Bench
Conditions: partial cloud with breaks of bright direct sunlight
Start time: approx 10am
Finish time: 11am
Device attempting to charge: iPod Touch
Here's some pictures from the test bench
At 10:42 a mass of dark clouds appeared and the solar light went out but it did come back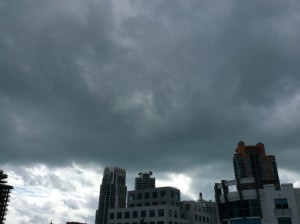 on so it's interesting to see what the effects of clouds have on the solar bag.
So the clouds suddenly appeared, nice thick black ones which was great timing for our test bench experiement. Check out the picture…
They didn't last long and within a few minutes the red indicator light was back up and running. Good to know.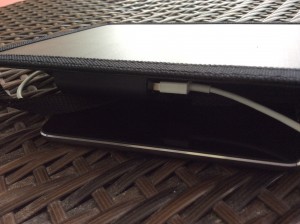 Results
The instructions say that you can not charge a device directly from the solar bag. The iPod Touch had de-charged completely so the solar bag was not powerful enough but trying an iPhone that had some power actually did show it was taking on charge.
In an emergency to keep you topped up this will work well but don't expect it to fully charge a device it's just not for that purpose. No problem, up next the radio and solar bag test.
Additional Features
Includes headphone jack for private listening and audio input jack for personal media players, smart phones, iPods and mp3 players. Features temporary backlit display.
The Adventurer2 includes the emergency handheld radio, AC adapter, USB power cable for recharging through a computer, and universal 10-in-1 charging cable for smart devices.
Note: Apple users will want to charge directly from the USB port using the firewire cable that came with your iPhone or iPad.
Testing the solar bag with the Radio to charge
The weather today
I think this radio is a must-have item especially if you live somewhere that you need to monitor adverse weather such as tornadoes, hurricanes, earthquakes etc. With the useful weather alert feature that monitors announcements even when you sleep you will never feel unprepared or caught out again.
CHECK IT OUT TODAY…
Ambient Weather WR-335-SOLARBAG ADVENTURER2 Emergency Solar Hand Crank AM/FM/SW/WB Weather Alert Radio, Flashlight, Siren, Smart Phone Charger and Solar Bag Kit