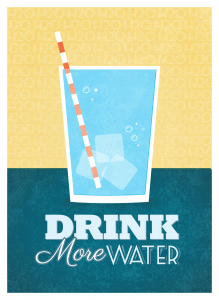 World Water Day is an annual celebration whereby each year it highlights a specific aspect of freshwater. This year's event falls on March 22nd 2015 so mark it in your diary.
How I personally drink water has changed over the years. Growing up in the 70s/80s I don't think I ever saw the classic plastic bottle of water you can readily pick up at every store today. We used to just fill our glass from the tap and we were ready to go. I remember taking drinks to school in my beaker, with probably a dash of Robinsons Barley Water added for interest but that was it. I don't remember thinking that the water tasted of chlorine or smelt strange but as I've grown older I began falling into the trap of grabbing bottled water when out and about and even adding the larger bottles into the fridge.
After much research and lots of taste tests I ended up with a favorite bottled water and if you are caught short on your travels and want to stay hydrated, then I can recommend my tried and tested water tipple of choice was Highland Spring. It just tasted fresh and clean and would quench my thirst. It was an easy to drink water.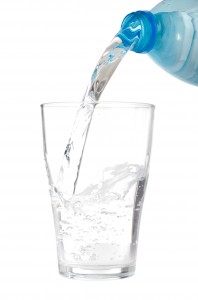 What do I mean by "easy to drink"? Well, have you ever had water that actually feels heavy and thick in your mouth and you could almost chew the water? I know that sounds daft and if you haven't experienced that sensation I hope you never do, but most tap waters will make you feel like you're swallowing something super gloopy. Take notice the next time you take a drink from the tap, you may be surprised by the heaviness?
Now maybe I have ultra sensitive tastebuds but the other thing I've noticed is a really strong smell and taste of chlorine in water these days.  Now maybe I just pick up on smells really easily but I don't think so. The added chlorine also adds to the mouth drying effect that water can have which is the complete polar opposite of why you were drinking it in the first place! With heavy chlorinated water I feel I have to drink more but never really get to the thirst quenching experience.
Water quality is also very dependent on where you live so you may experience the things I've mentioned here as well as other elements that affect water quality. When I lived in London the chlorine taste was very apparent but now I live in Florida I can also taste the chlorine so it pretty much seems standard wherever you live. There is an alternative to get back to great tasting water, save money in the process and remove those unwanted chemicals and pollutants that have crept into the humble glass of H2O without ever having to resort to buying expensive bottled water again.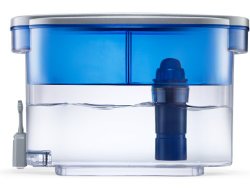 So the answer to having great tasting water in our household without resorting to buying more plastic and polluting the earth when the bottles are discarded was to invest in a water filter. After much research we plumped for the Pur 2-Stage Water Filtration Dispenser which holds a whopping 1.125 gallons of water, 18 cups or 4.258 litres for my international visitors 😉
Since we've had the filter dispenser we've already noticed a big difference in our water drinking consumption. We generally fill it up before going to bed so we have fresh chilled filtered water from the moment we get up and we may fill it up one more time during the day. We find if we fill up some of those large water containers with tap water and then chill those in the fridge, the water is already pre-chilled so once we fill up the water filter it's already receiving nice cold water so you can start dispensing it.
Here are a few facts about this water filter:-
Removes 95% of Mercury

Reduces Chlorine (taste & odor) and more

1 Filter provides up to 40 gallons (two months) of crystal clean water but depending on your water quality before filtering and how many people live in the household you may get more or less filtration from one filter.

BPA free
The dispenser sits perfectly inside the fridge and with the handy spigot lever once it's in there you can fill bottles, glasses and even the kettle with ease. The only time you have to remove it is to refill it but even then you can fill it whilst it sits in the fridge. It has two handy indented type handles which make it easier to move about and it only takes a second.
The bottom and top compartments are color coded (darker blue on top and clear on the bottom) and separated so there is no contamination from the top unfiltered water into the lower reservoir. Once the filter is sitting in place it seals the two compartments from each other so you get a refreshing filtered glass of water every time.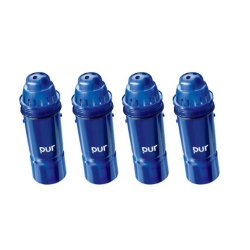 PUR 2-Stage Water Pitcher Replacement Filter, 4-Pack
The filters last about two months but there are a couple of tricks you can utilize to make your filters last a bit longer:-
when you receive your new filter and before inserting it, ensure you follow the instructions and take the time to prime your filter by soaking it thoroughly for approximately 10 minutes in a bowl.
once you have soaked your filter run clean water through the filter from the tap for 2-3 minutes. Shake the filter so any excess water drips free
from time-to-time leave the top half of your dispenser empty of water (or at least so it's not covering the top of your filter), this could help prolong the life of your filter so that excess water is not sitting inside the filter for too long.
if you're filter starts slowing down considerably or you start to notice the water begins to have a "taste" then remove the filter, wash under the tap for 2-3 minutes and shake the filter. Repeat.
Once you have filtered that delicious tasting water, don't get caught out and about without taking some with you. There are some great looking BPA-free tumblers you can grab and go. They've come along way since I had my orange beaker with a plastic lid on top. Here's some top water tumblers you should never leave home without:-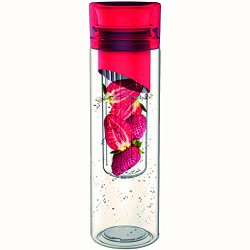 Fitastic Fruit Infuser Tumbler
Now you can have unlimited flavors at your fingertips by investing in a fruit infuser water bottle. The added bonus of this is you can pick what flavor you add such as strawberries, raspberries, mango, peach – the list is endless and you know exactly what is in the drink because YOU put it in there.
Why stop there, once you've finished drinking the fruit flavored water why not eat the fruit.
Thermos Intak Hydration Bottle with Meter

Made from BPA-free, impact resistant and dishwasher durable Eastman Tritan copolyester. It has an easy opening hygienic push button sipper lid with locking ring.
The cool feature on this water tumbler is the rotating meter lets you keep an eye on how much you drink – what a great way to monitor your daily water consumption.
Easily operated using one hand push button lid operation. Flip up carrying loop. Ergonomic design is comfortable to grip. 24 ounce capacity
I hope you enjoy your new water experience at home, work or on the go.
Think what you drink on World Water Day and rediscover how tasty water really can be!