I'm not a big medication user, in fact I can barely swallow what I guess most human beings would consider regular sized pain relievers. This is not a new phenomenon for me. I've always had trouble and would have to use the dispersible painkillers when I was younger or suffer in silence.
However, if like me you have trouble swallowing pills you may be interested in a few different options that can help you feel better quicker and without all the hassle of the 'choke factor' and the gallon of water you have to swallow. Compare that scenario to other people who barely swallow a teaspoonful of water, if any at all – no-one likes a smarty pants 😉
You may even be that person so congratulations or if not I can sympathize and I'm sure you know the kind of person I'm talking about. They effortlessly look at you without moving their head an inch as well as looking like they are barely swallowing – is that you – how do you do that?
It's certainly not me. I end up doing a special balancing act in my mouth and then attempt to encase the pill in a bubble of water which I hope manages to go down my throat. What normally happens is I swallow the water and the pill stays firmly in place in my mouth melting into a gooey horrible tasting mess. If I'm really lucky it will stay perfectly in shape to give me another chance…or I give up.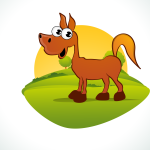 It is certainly not my imagination…pills really have increased in size. When you are faced with a 'horse-pill' the size of a small cocktail sausage and that horrible feeling of it stuck in the back of your throat going nowhere fast…what can you do to get some relief?
First of all get yourself a pill crusher. There are many different sorts on the market. It's easy to pop into your bag so that you can crush your pills on the go should you need to. Adding the powder to a flavored drink or apple sauce makes the whole experience much more pleasant.
Not all pills can be crushed so check with your Doctor or Pharmacist for advice or alternatives.
I use Walgreens Cut N' Crush Pill Crusher/Splitter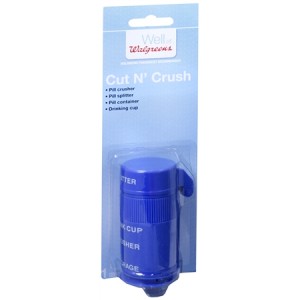 It cuts pills in half and crushes them into powder and takes no time…it also makes you feel really, really strong and makes a satisfying cracking noise.
4 compartment pill storage
Drinking cup
Other Features
Unscrew cutter to open cap for drinking cup.
Cleaning: After every use, gently brush residue off blade with thick, damp washcloth. Always dry thoroughly.
There are lots of pill crushers on the market – do you have one?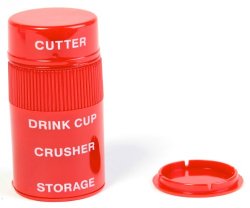 For an alternative color, why not check out the
Ezy Dose Cut and Crush Pill Splitter and Crusher
Looks just like the Walgreens one but comes in red so other family members can have their own.
You can also find out more about this pill crusher by visiting the Walgreens website
So you have your pill crusher, let's have a look at how to make those large packets more travel size friendly.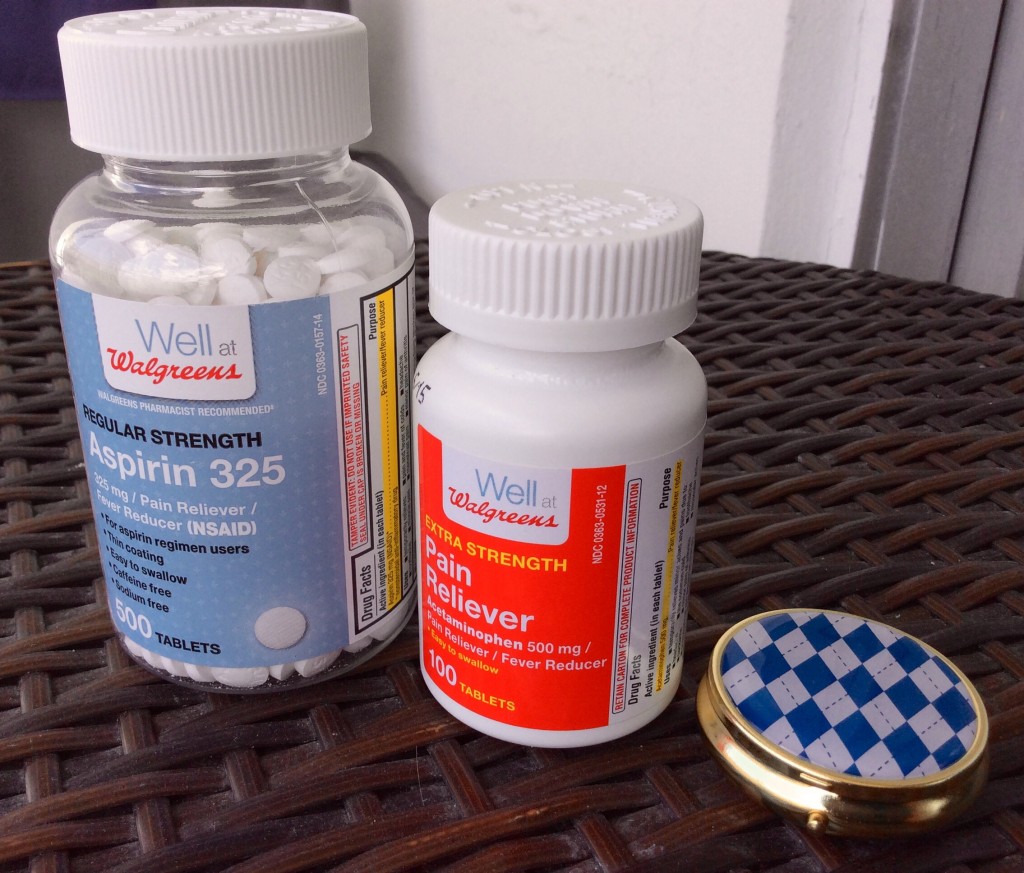 It's not easy to find travel friendly ready-packed small packets of pain relievers. As you can see from my photo you really do not need to be carrying those around everywhere you go!
The solution is a handy and functional small pill case.
Durable, compact and no spill design. Easily fits in a pocket or purse.
My pill case has a small button that you press at the front which pops open the lid to reveal three tiny compartments. Depending on the size of your particular pills will affect how many you can fit into each section, but the cases come in all sizes so I'm sure there's a pill case out there just for you.
Stay Happy and Healthy!
---
Do you have any tips and tricks to make taking pills easier? Why not share your travel size medication secrets below – I'm always interested in easier more efficient ways to do these annoying little things.
---