Ice Pick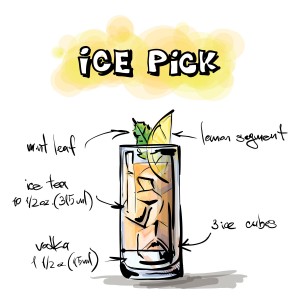 6 cl (1 part) Vodka
18 cl (1 part) Iced Tea
18 cl (1 part) lemon juice
On the rocks
Served in a Collins Glass
Standard Garnish: lemon segment
| | |
| --- | --- |
| Preparation | Put vodka in glass fill with iced tea. Stir in lemon to taste. |
Hiroshima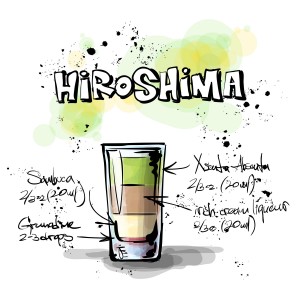 12 cl (1 part) Whisky
6 cl (1 part) Extra Dry Vermouth
1 drop of licorice liqueur
Shaken with ice-cubes
Served in a Highball or old fashioned glass
Standard Garnish: none
| | |
| --- | --- |
| Preparation | Shake ingredients with ice cubes in a cocktail shaker. Strain into a highball or old-fashioned glass, and serve. |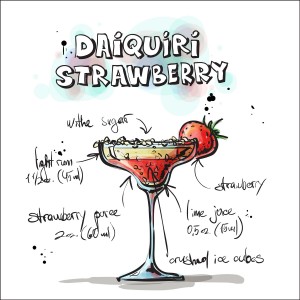 Daiquiri Strawberry

4.5 cl (9 parts) White rum
2.5 cl (5 parts) lime juice
1.5 cl (3 parts) Simple syrup
strawberry puree
Straight up or if you prefer crushed ice
Served in a cocktail glass
Standard Garnish: strawberry
| | |
| --- | --- |
| Preparation | Pour all ingredients into shaker with ice cubes. Shake well. Strain in chilled cocktail glass. |
I hope that's given you a taster of the assorted Cocktails you can make at home or the confidence to boldly order something new next time you're at a party or bar.
Come back soon and check out more exciting drinks I will add here from time-to-time.
Do you have a favorite? Have you made your own special cocktail? Share your creations below.
Thank you for visiting. Please enjoy your drinks but remember to drink responsibly and never drink and drive.