Today at breakfast I was offered a selection box of different teas to sample. I chose an orange packet called Euphoria by a company called Kusmi Tea.
Kusmi tea have been making tea for over 140 years but I've only discovered them today!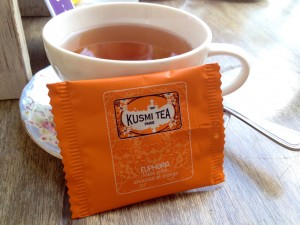 Euphoria is a wellness tea and the flavor was very light but interesting.
It was a tasty blend of roasted maté, chocolate and orange. Euphoria is the perfect drink for a wellness-inspired teatime, but it can work at any time of the day except for maybe just before bed as it does contain caffeine.
Chocolate lovers can now indulge without feeling guilty.
The Orange and Chocolate flavor was blended with Roasted Maté.
Yerba Maté
Yerba Maté (Ilex paraguariensis) is an evergreen plant of the holly (family Aquifoliaceae). The plant can reach heights of 10-12 meters, but is generally pruned at about 4-6 meters. Although the plant does produce small flowers and fruit, only the distinct oval shaped leaves and stems are plucked for processing.
Maté Constituents
Maté contains vitamins (A, B1, B2, C and E), mineral salts, 15 amino acids and high level of antioxidants. Its chemical constituents also include alkaloids (caffeine).
Gourd & Bombilla
The Maté Gourd and Bombilla (straw) are traditional vessels used for enjoying Yerba Maté. The Gourd is filled one-third full with the leaves and after adding water, the brew is enjoyed by sipping through the bombilla.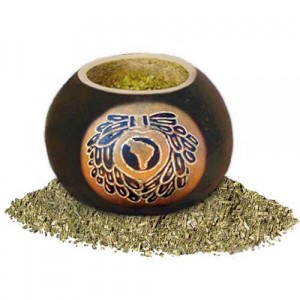 I can recommend this as an interesting and refreshing tea of the day if you're looking to sample something different.
---
If you found this interesting you can find out more about tea here.