Today at breakfast I was offered a selection box of different teas to sample. I chose an orange packet called Euphoria by a company called Kusmi Tea.
Kusmi tea have been making tea for over 140 years but I've only discovered them today!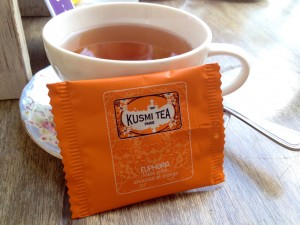 Euphoria is a wellness tea and the flavor was very light but interesting.
It was a tasty blend of roasted maté, chocolate and orange. Euphoria is the perfect drink for a wellness-inspired teatime, but it can work at any time of the day except for maybe just before bed as it does contain caffeine.
Chocolate lovers can now indulge without feeling guilty.
The Orange and Chocolate flavor was blended with Roasted Maté.