In my, Knitting: Making Socks article, I talked about how my journey into sock making began, the dread of having to deal with four to five needles and how to knit the seemingly complicated sock shape.
Now it's time to understand The Anatomy of Sock Knitting which hopefully will help you understand how the sock is constructed, so when it's time to knit you won't be phased by the pattern instructions and you will have a piece of work that resembles a sock. I'll also be referencing helpful video tutorials so you can see the magic loop method in action.
If you haven't checked out my article Knitting: Making Socks check that out first as I explain a much easier method to help you get up and running on your sock knitting journey using the magic loop method.
The Anatomy of Sock Knitting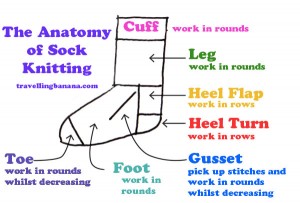 The sock is an amazingly well put together collection of different areas. The foot is a complicated shape so it goes hand-in-hand that the sock has a lot going on too. As you can see from my sock diagram (Fig ii) the sock is broken down into seven distinct areas:-