It's official, those numbers have returned…but I lost a day so lets make up for it now!
Yesterday, April 8th 2015, marked Lost Numbers Day…a day when the Lost hatch numbers fell back into alignment.

4   8   15   16   23   42
---
If you don't recognize those numbers let me explain.
Lost (2004–2010) was a television series, created by J.J. Abrams and Damon Lindelof, about the aftermath of a plane crash on a mysterious tropical island somewhere in the South Pacific.
So why was April 8th 2015 Lost Number Day?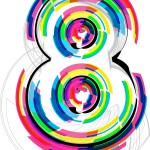 The first three numbers in the sequence relate to the fourth month (April), the day (8th) and the year (2015) but how do you explain the next three numbers? Well it's the time 16:23:42 as shown in 24 hour clock mode as the Hour:Minutes:Seconds
The Numbers
In 1988, slightly more than 16 years before the crash of Oceanic Flight 815, Danielle Rousseau's science team picked up a mysterious short-wave transmission from the island. The transmission was merely six numbers repeated over and over again: 4, 8, 15, 16, 23, 42. She wasn't the only one who heard them. The same transmission was also picked up by a U.S. Navy long wave transmission monitoring station where Leonard Simms and Sam Toomey worked.