I've known how to knit for quite a while but have always been fascinated with the amazing things you can make with Crochet. There are the classic and well known Granny Squares turned into amazing blankets and afghans, intricate lace, the wonderful world of Amigurumi and everything else in-between.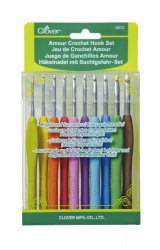 You can't start to learn something without the right tools. Recently, I ordered some crochet hooks and a pouch to store them in. There are many different types of crochet hook you can buy, but after some research I decided to buy the Clover Ergonomic Hooks as they looked sturdy with lots of reviews about how great they are compared to their thinner counterparts.
This set features a soft easy grip that is warm to the touch and gives the user the most comfortable finger placement as well as tireless functionality.
The polished Aluminum hook is the perfect shape for smooth crocheting.
Each of the 10 sizes features a different bright and fun colored handle. The sizes are B-2.25mm, C-2.75mm, D-3.25mm, E-3.50mm, F-3.75mm, G-4.00mm, 7-4.50mm, H-5.00mm, I-5.50mm, and J-6.00mm.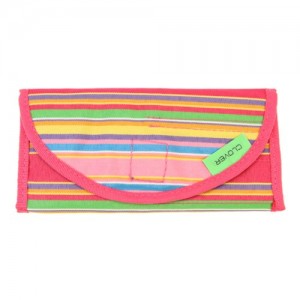 Interestingly, the case matched the one I have to store my Knitting Needles (you can find out more about them here), so I was really pleased about that. Obviously a much smaller version to accommodate the size of the hooks and perfect to throw in your bag for crochet-on-the-go.
It's called the Clover Getaway Case for Soft Touch Crochet Hooks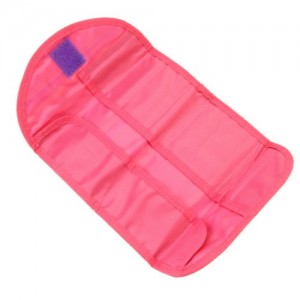 There is only space for 8 hooks but I have managed to pop the other two on top and fold down the inside flap. Once the pouch is rolled up it holds them all securely, so I haven't found this to be a problem.
Considering you'll most likely have a couple of projects on the go anyway, will help solve the storage problem.
The timing of my order was perfect as my Mother-in-Law was visiting and set me up and running on the basics – starting chain and practicing the single crochet stitch (sc) back and forth. I even managed to change color.
However, she couldn't stay forever so I had to practice on my own and also find some more help. Thank goodness for the wonderful world wide web. You can pretty much find anything you want especially videos to help you learn many things – crochet, luckily for me, being one of them.
I'm part of a knitting/crochet community on Ravelry and someone suggested the best beginner crochet tutorials she had found with really clear instructions were with help from the Crochet Geek. She really explains the stitches well, has slow motion segments in her videos, so you can really following along, and before you know it I'd made my first crochet hat. Considering I'd only been doing crochet three weeks up to that point, I astounded myself. Give it a try…if I can do it you can too!