We had a leftover whole cooked BBQ chicken which still had half the breast meat, one leg and one wing left to eat. We could have had it cold with some potato salad or popped it in a sandwich but I decided to make an easy slow cooker meal combining all the leftover chicken and some vegetables.
What Do You Need:-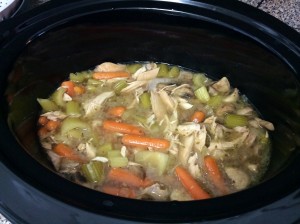 Chicken – (any leftover cooked chicken) Remove all the chicken from the bone and discard any skin and bones. Set aside whilst you prepare the veggies.
The Veggies
Wash and chop the following:-
4 large stalks of fresh celery
1 large white onion
5 large white mushrooms
A large handful of baby carrots (leave whole)

Add the onions to a pan and lightly cook in a small amount of olive oil until soft. Add the mushrooms, stir and cover for a few minutes on a medium heat.